I swear I'm going to start writing more than my once a week Currently post. Eventually. Wedding planning and summer relaxing have kind of taken over my life and I'm feeling less than motivated when it comes to blogging. But now it's Thursday, and I'm sharing a little about what I'm currently up to.
Currently I am...
Missing
Downton Abbey. Isn't that sad? I finished watching season two in less than a week and now I'm having withdrawals. I need a new show to fall in love with, but sadly I don't think anything else could compare.
Dreaming
of everything wedding. I bought my dress this week (!!!!!!) and I set up appointments to tour our three favorite venues. I'm constantly browsing Etsy for the perfect bridal accessories, and Pinterest for more DIY decor ideas. I know this is supposed to be stressful, and I have no doubt that it will get that way, but for now I'm having a blast dreaming up my perfect wedding and seeing it become reality.
Loving
rainy pajama days. It's been raining like crazy for the last week or so and I'm kind of loving it. The weather is cooler than usual and the grass hasn't turned brown and crunchy yet. Sure I'd love to see the sun shinning again, but in the meantime I'm grateful for these relaxing, quiet days at home with my family. Plus, nothing beats falling asleep while listening to a rain storm.
Laughing
at Hannah's silly shenanigans. But that is a pretty constant thing. Yesterday she was sitting on the toilet and yelled at Wytmer and me to go away. I came back after a couple minutes and asked if she went pee pee. She looked up at me and said, "Umm is stinky pee pee. Ew yuck!"
Wishing
that we find the perfect wedding venue quickly. I think I'll write a post in the next couple days about some of the places that we are considering. My biggest fear is that we will fall in love with something that is way out of our price range.
What about you? What are you currently up to? Share your own Currently post in the link up below! You can use our topics or choose your own. The link-up will stay active all week so you have plenty of time to participate. Please use the button below, or link back in some way. And don't forget to visit my lovely co-host Randalin over at Harvesting Kale!
[next week's themes: cooking, making, working on, reading, and listening to]
XOXO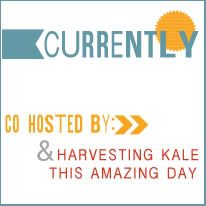 <div align="center"><a href="http://www.thisamazingdayblog.com/" title="This Amazing Day"><img src="http://i918.photobucket.com/albums/ad25/wsdavitt/CURRENTLY-1.jpg" alt="This Amazing Day" style="border:none;" /></a></div>