Before we begin this week's Currently post, my co-host
Randalin
and I wanted to take a few minutes to get some feedback from you all about this link up. We have absolutely loved hosting this feature all summer and are looking forward to continuing the fun. We love seeing so many great blogs participating each week, and we want to take into account all of your opinions before we think about making any changes. So we have just a few questions that we'd like you all to consider for us. Leave any responses you may have in the comments. As always, we greatly appreciate you coming back every week and making this link up so fun and successful.
Question 1: With September approaching we realize that everyone is about to get a lot busier. Would it be easier to make the link up a once a month, or maybe every other week kind of thing? Or do you like having the consistency of posting every Thursday?
Question 2: Would anyone else consider co-hosting the link ups, possibly on a rotating schedule?
Question 3: Do you enjoy having different themes every week, or would you prefer a permanent set of topics to write about? Sometimes coming up with new ideas gets a bit overwhelming and I know it might be a bother for you all to have to look back and find out what to write about. If you do want a permanent set of topics, what would you like to make it on the list, in other words, what were your favorite themes? If you have any suggestions for new topics, that would be great as well!
Thanks in advance for your thoughts! Now let's get the party started.
Currently I am...
Happy
about Wytmer having a second interview today for a fantastic new job. He's a really charming and confident person and has been offered every job he's ever interviewed for. I'm really hoping the streak continues because this new opportunity would be wonderful for our family.
Searching for
the perfect school shoes for Hannah. Her preschool prefers that the kids wear closed toe shoes (no boots or sandals, which is a problem because that is all Hannah wears). I have my eye on some bright pink converse, but I'm also lusting over a sweet pair of red Toms. If Hannah has a say in it she'll be wearing the pink ones when she starts school on Monday.
Making
little cartoon sketches of Hannah during our regular art sessions. Hannah loves to draw, color, and play with play-dough. But every time she ends up just bossing me into making her various pictures and figures. She loves my play-dough ice cream cones, and whenever I draw she asks for "Princess Hatta" (Hannah).
Feeling
excited about the next season in our lives. I go back to work next week and Hannah is starting school the same day. Hopefully Wytmer will be starting a new job around the same time. I'm looking forward to the direction that we are headed, even if it means a bit more stress. There's a lot of happiness on our horizon and I just feel ready.
Going
to lots of last minute appointments. I always try to get all my annual doctor/dentist/etc. visits in during the summer break and I procrastinated like crazy this summer. This week Hannah went to the dentist, I'm getting my hair cut, and Friday I have my own dentist appointment. Throw in a few work and preschool related errands and we've got a very busy last week of vacation.
What about you? What are you currently up to? Share your own Currently post in the link up below! You can use our topics or choose your own. The link-up will stay active all week so you have plenty of time to participate. Please use the button below, or link back in some way. And don't forget to visit my lovely co-host Randalin over at Harvesting Kale!
[Next week's themes: missing, craving, anticipating, thinking about, singing]
XOXO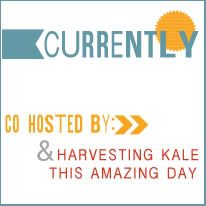 <div align="center"><a href="http://www.thisamazingdayblog.com/"