Currently I am...
Missing
my family during the day. We all went back to school/work this week and things are BUSY. Wytmer got the job (!!!!!) and he started Monday. He's now working for a distributing company that partners with Budweiser. It's a great company and he's really enjoying it so far. Also, Hannah started going to school this week and she's loving it so far. I'll try to write a more detailed post about all these changes in a post this weekend. But I went back to work as well and things are crazy, so I'm not making any promises.
Craving
sleep. You guys? I'm tired. My body is just not used to waking up so early and being busy for so long. Hopefully we get back into a routine soon and things start getting easier. But right now I just want my bed.
Anticipating
Saturday morning when I get to wake up slow with my loves. I'm already planning a big breakfast and pajamas until noon.
Thinking about
so much. Lately I feel like my mind is running non stop. Luckily most of my thoughts are positive ones these days. Lots of exciting plans and projects to work on.
Singing
the Wonder Pets theme song. Hannah has started picking up on some of the songs from her favorite shows and she loves singing along with me. She loves when I sing "what's gonna work?" because she gets to yell "teamwork!" I swear half of our time together is spent singing that silly tune.
What about you? What are you currently up to? Share your own Currently post in the link up below! You can use our topics or choose your own. The link-up will stay active all week so you have plenty of time to participate. Please use the button below, or link back in some way. And don't forget to visit my lovely co-host Randalin over at Harvesting Kale!
[Next week's themes: cooking, reading, wishing, considering, looking for]
XOXO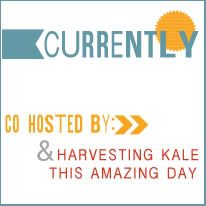 <div align="center"><a href="http://www.thisamazingdayblog.com/"