Currently I am...
Watching
Hannah while she reads some books before bed. We're having a little quiet time while Wytmer is out at the driving range with my dad. I've always loved how Hannah can get so calm and wrapped up when I give her a stack of books. Her growing passion for reading is one of the things I am most proud of.
Reading
Book 3 of the Percy Jackson series. I'm really enjoying the stories so far, even though the writing isn't anything special. The plot line is fun, and I'm a bit of a nerd for Greek mythology, due to the fact that I teach The Odyssey ever year.
Eating
breakfast for dinner tonight. It's a favorite in our home. Tonight we feasted on scrambled eggs, turkey bacon, and biscuits.
Inspired by
Autumn. I just love this time of year. The weather here in Texas is finally starting to cool down a bit, and we're making plans to visit the pumpkin patch in the next couple weeks. There's just something so rejuvenating about the season changes. I love the chance to start fresh.
Thinking
about the idea of moving in the next couple years. We want to start getting settled somewhere permanent before Hannah starts kindergarten. I want to live somewhere with good schools and a diverse community that is close enough to my job and our families. We have a little while to think about it, but I hope we are able to get there sooner than later. This mama is sick of renting apartments.
What about you? What are you currently up to? Share your own Currently post in the link up below! You can use our topics or choose your own. The link-up will stay active all week so you have plenty of time to participate. Please use the button below, or link back in some way. And don't forget to visit my lovely co-host Randalin over at Harvesting Kale!
[Next week's themes: feeling, drinking, looking for, dreaming of, making]
XOXO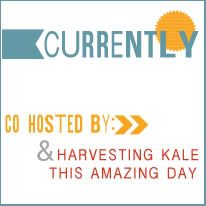 <div align="center"><a href="http://www.thisamazingdayblog.com/"