Sorry this is late today. I accidentally scheduled it to post at 7PM instead of 7AM. Oops!
Currently I am...
Achieving
a bit more balance in my life. This week I've been able to leave work a little earlier, which means I can pick up Hannah sooner. Those extra minutes together do wonders for my sanity and really help Hannah with missing mama too much. She's still stuck on me like glue all evening, but I can't complain.
Building
in some time for reading. Our school has a campus-wide reading initiative where we all take 15 minutes for leisure reading after lunch. I started reading the Percy Jackson series because so many of my students love it, and the story line is similar to Harry Potter (which still has my heart). So far I'm enjoying it, but it's not doing anything for my Potter withdrawals.
Collecting
lots of wedding inspired pins on Pinterest. Do you follow me there? I pin a lot of cleaning tips, food, kid things, and wedding stuff, so if you're into that kind of thing you should visit my
boards
.
Dealing with
a few afternoon potty accidents from Hannah. She does so well at school all day, but lately she's having accidents on the drive home (which is only 5 minutes). I think she gets so caught up in playing that she forgets to go, and then can't hold it in when she's sitting in the car. My car smells like a toilet right now. I've started taking her to the bathroom before we leave her school, so I think she'll be fine from now on.
Enjoying
a renewed love affair with coffee. Over the summer I rarely drank coffee because it was always so hot, and ya know, I slept a lot. Lately I've been relying on coffee to help get me going when I'm out of the door at 6AM. A big travel mug full of coffee with a little hazelnut creamer is one of my favorite parts of the morning. So good.
What about you? What are you currently up to? Share your own Currently post in the link up below! You can use our topics or choose your own. The link-up will stay active all week so you have plenty of time to participate. Please use the button below, or link back in some way. And don't forget to visit my lovely co-host Randalin over at Harvesting Kale!
[Next week's themes: laughing, writing, dreaming, craving anticipating]
XOXO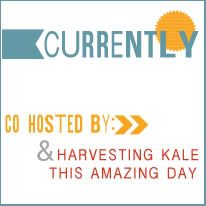 <div align="center"><a href="http://www.thisamazingdayblog.com/"